Yaama (Kamilaroi word for 'Hello')
Leah is an Aboriginal woman born in Canberra, ACT. Leah's mob are Kamilaroi from her Grandmothers country in the Gunnedah region.
Leah is a self-taught Contemporary Aboriginal Artist and began painting at a very young age. She has been painting in a professional capacity since 2013. Leah is a mother to two young children and also works as a Cultural Integrity Coordinator and Indigenous Education Officer with the ACT Education Directorate.
"Art is such an important platform to share my culture with the wider community. My art is like a 'visual yarn'. People can connect with the stories and meaning behind the work".
A great deal of Leah's artistic vision and inspiration comes from the changing landscapes in her home town, on country and from her journeys to ocean country and beyond. Leah uses layers of fine dotting, line work, colour gradients, symbolism and her signature style of 'cracked earth' landscape throughout her paintings. Her country is often dry and cracked, but rich and deep in history, culture and story as represented by the space in between the cracked earth.
Leah's paintings often work between two perspectives; landscape and birds-eye view. Through a birds-eye view, Leah generally maps the journeys in which she takes, along with her ancestral and cultural ties. As Leah learns more about her culture and discovering her ancestors' footprints in the landscape, she feels the urge to paint her story and her sense of place through paying attention to colour, detail, natural patterns, light, shade and texture in the landscape.
"I enjoy creating and bringing to life my clients personal, family and business stories through art. Please contact me for a yarn about your story".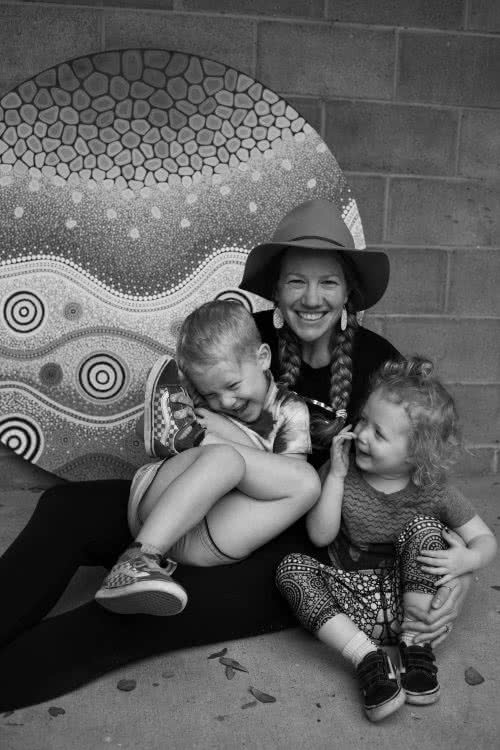 Testimonials
"Thank you so much Leah for painting 'Perspectives', our family's story. With compassion and insight, you captured the essence of our family's story, weaving in our connection to country, our love of family and our shared experiences.  You have given our family such a special gift that will we will treasure for generations" – Michele

"From start to finish, Leah was open, communicative and understanding of the meaning behind the piece. I cannot express how happy I am to hang this piece in our family home. It holds pride of place in the centre of our home" – Eli

"Working with Leah was a delight. She listened to our family story, pulled out key features then crafted them into a breathtaking and striking artwork. Throughout the process, Leah communicated with us and sent sketches and photographic updates making the commission a fun and meaningful family project" – Jenny
Achievements
ACT and Region Indigenous Excellence Awards. Indigenous High Achiever. Indigenous Business Chamber, Indigenous Employment, Education and Training & ACT and Region Chamber of Commerce and Industry. 2014.
ACT Ombudsman Aboriginal Art Competition. Winner. April, 2018.
Inner North Art Prize. Finalist. The Front Café, Lyneham. October, 2018.
Canberra Weekly Magazine. Cover Image – 'Woman. Celebration. Life'. 8 November 2018 Edition.
Authenticity Statement
I, Leah Brideson, a descendant from Kamilaroi Country and the Artist, certify that all artworks and products on this website are my own designs, original and authentic works of art.
I, Leah Brideson, the Artist, am a Contemporary Aboriginal Artist. All artwork, their stories and cultural content are represented from my own Dreaming and from my understanding and place in the world as an Aboriginal Woman. I use traditional concepts and symbolism represented through a modern, contemporary lens and have developed my style based on time spent on my Country, the place in which I live and from stories passed on by my family.
Dedication
I dedicate this website and all my arts practice to my Dad, Michael 'Mick' Brideson.
I miss you and think of you every day as you travel through the Dreaming with our Ancestors.
I love you my hero.